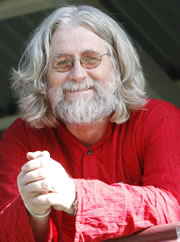 www.daveandrews.com.au
Here's an excerpt from an inspiring New Year message from Dave Andrews. Dave works and lives in Brisbane, Australia. He is part of the 'Waiters Union' there, facilitating and celebrating community. Among other things, he has a particular enthusiasm for respectfully working with people of other faiths.
I've been preparing to face the New Year by watching

An African Answer, a documentary that traces the efforts of Pastor James Wuye and Imam Muhummad Ashafa, in bringing peace after the post-election blood-letting in Kenya's Rift Valley. Some of the best answers to questions about how we can create peace in the midst of war are being forged in Africa.
I first encountered James Wuye and Muhammad Ashafa when The Imam and The Pastor told their story of moving from leading militias killing one another to leading peace-making initiatives in Nigeria. They have visited Australia and they have become a model for the peacemaking initiatives I am taking this year with Nora Amath, a Muslim colleague and close friend.
Nora's Mosque in Kuraby was the first one burnt down anywhere in the world after 9/11, so we have decided to reach out to all the faith communities around the Mosque, in the hope of negotiating a
Memorandum of Understanding to affirm a working relationship committed to personal respect, mutual regard, community harmony and a willingness to address issues of concern that may arise. It is our deepest prayer that all our faith communities will be sincerely committed to
:
·
Make an effort to relate respectfully
to all people regardless of their faith.
·
Listen to what others have to say.
·
Not tell other people what they believe, let them to tell us.
·
Respect other's views, even if we disagree with their views.
·
Be honest and sensitive in what we say.
·
Speak positively of our faith, not negatively of other's.
·
Not try and force people to agree with our own views.
·
Not treat people as a spokesperson for their faith
·
Not judge people by what other people of their faith do.
·
Acknowledge both similarities and differences between our faiths.
·
Share our faiths with sincerity, transparency, mercy and compassion.
·
Be honest, if an event includes sharing our faith. Not bait and switch.
·
Serve without strings attached. Not exploit the vulnerability of people.
·
Witness, but not convert. Never try to induce or to coerce a conversion.
·
Respect the choice of faith others make. Accept them without resentment.
·
Encourage positive relationships between faith communities.
·
Encourage constructive relationships with the wider community.
·
Use our wisdom, knowledge, skills and resources to serve people.
·
Discuss problems arising face to face so we can solve them peacefully.